Нов сондажна машина MASSENZA Mi 8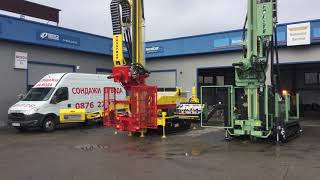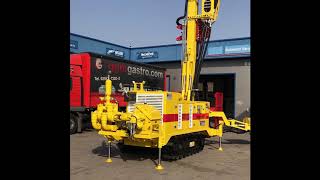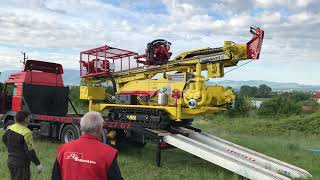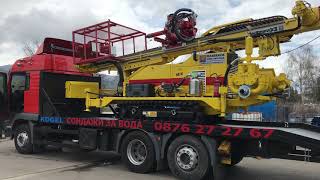 1/41
Описание
Дълбочина на изкопаване
600 м
Резервоар за гориво
150 л
Двигател
Мощност
115 кВт (156 к.с.)
Оси
Състояние на гумите
100 %
Състояние
Оригинално лаково покритие
Дистанционна инспекция
Заявка за независима техническа експертиза
Нуждаете се от доставка?
Изчисляване на цената на доставката
In this price include the mashine Massenza Mi 8, 100 pcs brand new drill pipes 101mm 3000mm long for 300 meteres also 4 subs and a brand new TRICONE BIT 311 mm the mashine is FULLY EQUIPPED and ready for use.


All the options of the Mashine

MASSENZA HYDRAULIC DRILLING RIG MODEL MI8 mounted on TRACKS
Used for water well research, geological findings, mineral research and geothermal applications.


WORK METHODS:
Rotary drilling with direct circulation by Water, Mud, Air or Foam
Down the Hole Hammer Drilling
Auger Drilling
Core Drilling


MAIN FRAMEWORK:
Made out of electrically welded high quality steel structural members and tubular pieces.
N°4 hydraulic stabilizers of which two are fixed and the other two can be manually widened for the levelling and positioning of rig, complete with check valve and support plate.
Stabilizers dimensions 95x80x60 S=400 mm, lifting force 12.050 kg each.
Pre-arrangement for drill pipe box.


CONTROL PANEL FIXED:
Unified type, complete with valves, distributors, pressure gauges, diesel engine and rig
control instrumentation and controls for rig positioning.

DIESEL FUEL TANK: Fuel tank 150 liters.

CRAWLER UNDERCARRIAGE:
Tracked crawler unit complete with hydraulic circuit of translation and controls on the portable unit.
Steel tracks width 300 mm
Total width 1675 mm
Length 2554 mm
Traction force 4000 daN
Speed 2 km/h


COMPLETE HYDRAULIC CIRCUIT, MADE UP OF:
Hydraulic oil tank, capacity 300 liters, completely covered for inspection and cleaning, vent filter, level indicator and temperature gauge, Load sensing system, heat exchanger (air/oil) for cooling of hydraulic oil, rigid and flexible pipework, filters, unions, capacity and pressure regulation valves.
Automatic On-Off hydraulic driven oil cooler.
10 micron filtering system with filters on suction and discharge lines.
The system includes:
- n°1 variable displacement axial piston pump in a closed circuit for the rotary head (112 l/min at 280 bar).
- n°1 variable displacement axial piston pump in an open circuit for the pull-up/down, winches and mud pumps (142 l/min at 280 bar).
- n°1 geared pump for the services: stabilizers, mast lifting and sliding cylinder (40 l/min a 210 bar).
- n°1 geared pump for other services: clamps, side-parking head, tilting head and air/mud valve cylinder (40 l/min a 210 bar).
Each hydraulic pump suction has lockable shut off valve to stop oil during the maintenance operations.
All hydraulic cylinders have adequate capacity and size.
The rods of the cylinders are in chrome plated high tensile strength steel with extra heavy duty seal packing.


RIG DECK ENGINE:
VM make, model R756 EU5 Tier 4 interim (Stage 3B), diesel, super-charged, 6 cylinders in line, 4 stroke, direct injection, water-cooled. In conformity with EU's regulation 2008/74/EC (Euro 5 EEV) - 2004/26/EC (Stage 3B).
Max automotive rating Hp 156 (115 kW) at 2600 Rpm.


SOUND PROOF COVERING (RIG ON CRAWLER):
Soundproof engine unit complete with removable panels and doors for inspection and maintenance.
76 dBA noise level at operator's station. Level of noise power 103 LwA.


RADIO REMOTE CONTROL FOR TRACKS:
Radio remote control complete of:
- Transmission unit with 2 proportional joystick, double speed function, on-off control and emergency stop
- receiving unit
- N°2 rechargeable batteries
- Battery charger
- Connection cable to use the remote control without radio frequencies and without batteries


HYDRAULIC CONTROL PANEL ON ARM:
Complete with valves, distributors, pressure gauges, reading gauges for pull-up, pressure thrust on drill battery, balance system. Proportional controls and regulation of the rotary head speed, drilling advancement speed, water pump speed, secondary on-off controls and emergency stop. The panel comes with a closure cover. Fixed levelling meter (water meter) is positioned near the operator position. Components on the control panel:
- Oil Pressure (Hydraulic) gauges
- Pull-up, pressure thrust on drill battery
- Pull-down, floating/retaining valve that adjusts the excessive pressure and weight on the bit.
- Bit load indicator
- Drilling advancement speed
- Water and mud pump speed
- Engine accelerator
- Regulation of the rotary head speed
- Emergency stop button



MAST SUPPORT GROUP:
Made out of electrically welded high quality steel, with n°2 hydraulic cylinders for raising & lowering of the mast, n°1 hydraulic cylinder for the vertical sliding of the mast with stroke 0,9 m. When the mast is in upright position, n°2 wedges anchor the mast to the chassis of the rig: the result is the maximum stability and precision during the drilling operations.
The sliding guides of the mast are replaceable and built with anti-wear material.


MAST:
Box type construction, made out of electrically welded high quality steel. Treated steel guides are applied to the mast for the rotary head power carriage (stroke 4,25 m). The crown block and hydraulic clamp can both be easily removed.
Capacity 150 kN - Height 6,34 m


HOSES CHAIN SUPPORT:
Hoses chain support mounted on the mast and fixed on the sliding carriage.


PULL-DOWN SYSTEM:
Hydraulically powered by variable displacement hydraulic motor and heavy-duty high resistance chain. Hydraulically adjustable feed system of battery weight and pressure thrust on drill string.
The system is equipped with a device that increases the speed of ascent and descent: this decreases the drilling operation time and increases the productivity.
Pull-up chain strength in tension: 55045 kg (121,353 lbs)
-Pull-up & Pull-down max 119 kN (26,742 lbf)
(Speed adjustable from 0 to 19 m/min).
-Fast handling speed adjustable from 0 to 45 m/min
Pull-up & Pull-down max 51 kN (11,459 lbf).


ROTARY HEAD POWER CARRIAGE with +80° TILTING:
Made entirely out of high quality steel. Complete with hydraulic device for side parking of rotary head (stroke 720 mm, 28.35") and hydraulic device for the horizontal tilting of the rotary head for easy and fast drill pipe loading.


TOP OF MAST (Crown block):
With one sheave Ø 200 mm (7,87").


HANDLING WINCH:
Hydraulically powered by hydraulic motor and rig's hydraulic circuit. Up and down control. Complete with 30 m (98.5 ft) of steel cable Ø 12 mm (1/2"). Direct pull max 31 kN (3.160 Kg) (6969 lbf).


MASSENZA DOUBLE HYDRAULIC ROUGHNECK model MS360:
Equipment for guiding, blocking, screwing, unscrewing of drill pipes, bits and casing. High quality steel construction. Powered by n.5 hydraulic cylinders.
Max passage Ø 370 mm (14.57")
Min clamping Ø 50 mm (2")
Max clamping Ø 304,8 mm (12")
Force max clamping 177 kN (39,305 lbf)
Torque min unscrewing 52360 Nm (38,619 lbf ft)



HYDRAULIC CLAMP CENTRALIZERS:
Hydraulic clamp centralizers with roller guides controlled by mobile control panel.
Diameter 76 mm (3") - 90 mm (3 ½") -114 mm (4 ½")



CLAMP SUPPORT WITH CASING EXTRACTOR:
Hydraulic clamp support with n°2 hydraulic cylinders mounted under the foot of the mast. Max pull 25 tons - Stroke 300 mm



SWIVEL HEAD model TAW200:
Swivel head for direct circulation, free internal diameter 50 (2") mm.



DUPLEX MUD PUMP:
Double action duplex pump, made up of fluid and power ends; eccentrics; connecting rods, crossheads, eccentric shafts are mounted on taper roller bearings; liners, pistons, rods, valves and valve seats are made out of heat treated alloy steel. Pulsation dampener, mud suction pipework (Ø 4"), flexible suction hose complete with rapid joint and suction strainer.
Output max 790 l/min - Pressure max 22 Bar (Pistons 140 mm)


WATER/FOAM PUMP:
Hydraulically powered by hydraulic motor and rig's hydraulic circuit. Safety valve and automatic pressure regulator. Suction and delivery pipework with stainless steel on-off and non-return valves.
Capacity 89 l/min (23.51 GPM) - Pressure 50 Bar (725 psi)



AIR LUBRICATOR:
Venturi type with adjustable oil flow system device
Max pressure 30 Bar - Oil tank 24 liters - Flow 17 kg/h



AIR/MUD PIPEWORK:
Delivery pipework (Ø 2") with rigid and flexible hoses placed at the mast and the swivel head. Non-return valve and interception valve hydraulically controlled from the control panel.


MASSENZA ROTARY HEAD model TM9CL3:
Steel case, pinion-crown transmission, alloy treated steel shafts and gears mounted on bearings, oil-bath lubrication. Powered by n°2 hydraulic motors with double displacement.
Dragging head under part, floating type, with shock absorber incorporated, made by cast rubber with steel reinforcements inside, internal diameter 76 mm (3").
Max load capacity 22.000 kg (48,501 lbs).
1° torque 19000 Nm (14,013 ft lb) (speed from 0 to 48 Rpm)
2° torque 12660 Nm (9,337 ft lb) (speed from 0 to 72 Rpm)
3° torque 9500 Nm (7,006 ft lb) (speed from 0 to 96 Rpm)
4° torque 6330 Nm (4,668 ft lb) (speed from 0 to 144 Rpm)



RUBBER PADS:
To be bolted on tracked undercarriage every other steel pad (total n°40).



TOOL BOX:
Box complete with tools for drilling rig maintenance.


LIGHTING SYSTEM:
The rig is complete with a lighting system, 2 lamps on the mast and another 2 lamps on the control panel.



STANDARD PAINTING:
Yellow RAL 1021, red RAL 3000 for the rotary head, double hydraulic clamp and crown block.
The painting process of all Massenza drilling rigs provides a careful preparation of all surfaces through cleaning and sanding. This is followed by a degreasing phase, a first coating with epoxy primer and lastly by the painting to be carried out in liquid, for a total of 100 microns.


OPERATOR'S PROTECTIVE GUARD:
Mounted on the base of the mast, manual opening, complete with end of line switch with blocking of head rotation and pull down movement when the guard is open. The safety protection cage has interlocking system and Restricted Operating Mode (ROM).
Max height from ground 1.6 m - Min height from ground 0.5 m.
Важно
Тази оферта е предназначена само за информационни цели. За получаване на по-подробна информация трябва да се свържете с продавача.
Съвети за безопасност
Информация за контакт с продавача
България, София, пл. "Независимост", 1000
Продавате техника?
Правете го заедно с нас!